Walk-in fume cupboard is applicable for handling tall apparatus and large hazardous containers. The sash can be horizontal/vertical sliding for ease of access.
1. Body
2. Service fixtures
3. Water faucet
4. Sash
5. Electrical socket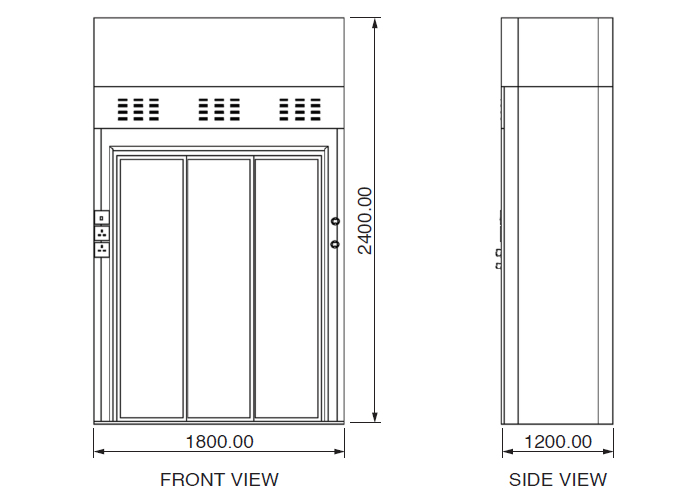 Features
Industrial-grade electro-galvanized steel construction with epoxy powder finish
High corrosion resistance
3-part vertical/horizontal sliding sash for ease of access.
Customisable components such as service fixtures and water faucets.
Customisable length with the minimum length of 1800mm (6').
Available in two materials; electro-galvanized steel and polypropylene.
Product Details
Model
WIFH-6-MS
External Dimensions (mm)
1800(L) x 1200(W) x 2400(H)
*custom length available upon request
Internal Dimensions (mm)
1550(L) x 1030(W) x 2050(H)
Material
1.2mm(Thk) Electro-galvanized steel sheet with epoxy powder coating finish
Sash
5mm(Thk) Clear glass / Polycarbonate / Acrylic / Tempered glass
Standard Feature
-1 Unit cold water inlet
-1 Unit inert gas inlet
-1 Unit cup sink on side wall
-3 Units BS Electrical socket on side panel
Interior
Fiber-reinforced polyester (FRP)
Base
1.2mm(Thk) Electro-galvanized steel sheet with epoxy powder coating finish
Power Consumption
10W (Lighting)
Volumetric Flow Rate
6ft: 1200 – 1500 cfm
Face Velocity
0.5 m/s at > 300(H)