Ductless fume hood, sometimes called carbon-filtered enclosure or filtered fume hood, are self-contained, filtered laboratory enclosure that remove hazardous fumes, vapors and particles from the laboratory. Unlike traditional fume hoods, installation costs are very low and no ductwork is required.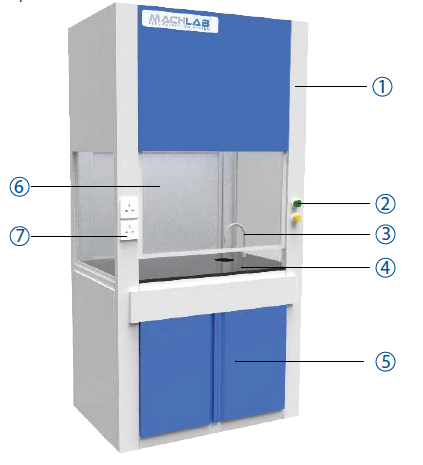 Body
Service fixture
Water faucet
Worktop
Base cabinet
Sash
Electrical socket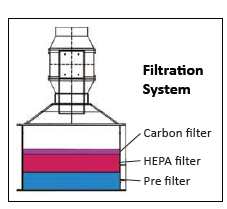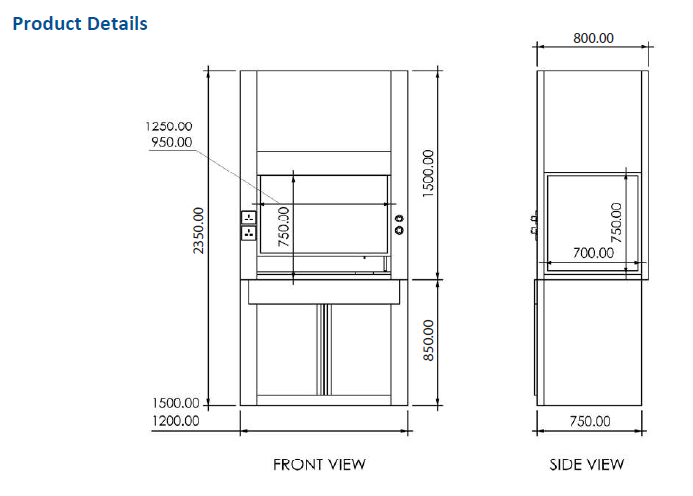 Features
Portable model for general purpose ductless fume hood
Side viewing tempered glass panel for safety
Low noise below 70dB
3 Stage filter module – Panel type dust pre-filter (33402), Activated Carbon Filter (DS2303) & Pleated HEPA filter (99.99% @ 0.3 Micron)(22300).
Fireproof buffer
Customisable components such as service fixtures, water faucets and drip cup.
Customisable base cabinet; can be mounted on bench, base leg or safety cabinet.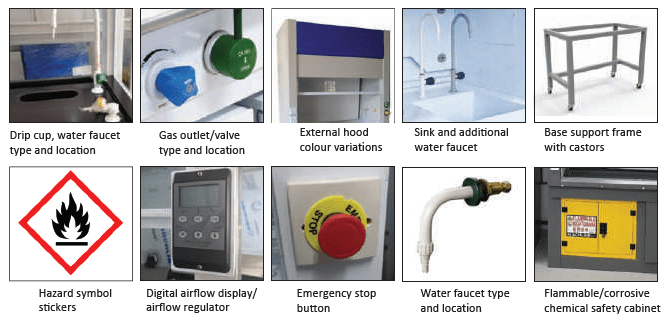 Product Details
MILD STEEL
DFH-4-MS
DFH-5-MS
External Dimensions (mm)
1200(L) x 800(W) x 2350(H)
1500(L) x 800(W) x 2350(H)
Internal Dimensions (mm)
950(L) x 700(W) x 1150(H)
1250(L) x 700(W) x 1150(H)
Material
1.2mm(Thk) Electro-galvanized steel sheet with epoxy powder coating finish /
5-10mm(Thk) Polypropylene sheet
Worktop
25mm(Thk) Epoxy resin / 30mm(Thk) Phenolic resin c/w marine edge
Sash
5mm(Thk) Clear glass / Polycarbonate / Acrylic / Tempered glass
Full Sash Opening (mm)
700(H)
Standard Features
– 1 Unit of 10 Watts Light
– 2 Units of 13 Amp electrical socket
– 1 Unit of light and fan dual switch
– 1 Unit of gas and water outlet & remote control
– 1 Unit of drip cup
Base Cabinet
1.2mm(Thk) Electro-galvanized steel sheet with epoxy powder coating finish /
5-10mm(Thk) Polypropylene sheet
Power Consumption
10W (Lighting)
Volumetric Flow Rate
4ft: 800 – 1000 cfm
5ft: 1000 – 1200 cfm
Face Velocity
0.5 m/s at > 300(H)