Acid digestion fume hood is to be used with acid digestion application which involves highly concentrated acids. The fume hood comes with external scrubber system that controls the gaseous emissions, especially acidic gases.
Body
Sash
Electrical socket
Worktop
Base Cabinet
Service fixture
Scrubber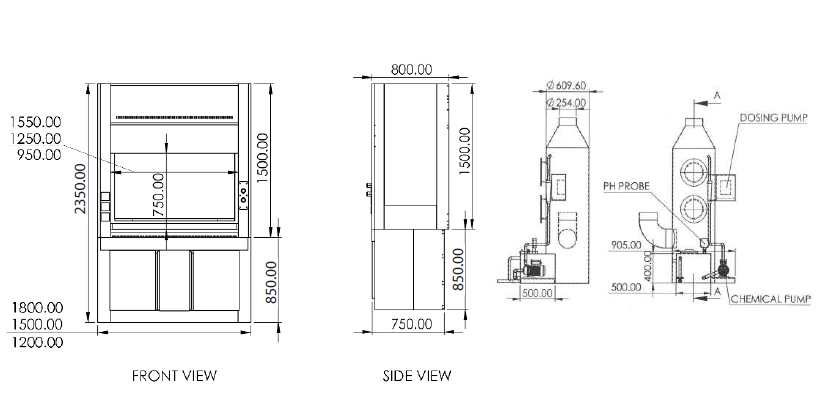 Features
Industrial-grade construction to withstand harsh environment
Epoxy resin worktop with high chemical and heat resistance
High corrosion resistance
Extraction fan is placed on the external building wall or anywhere convenient. Other motor sizes are available depending on requirement.
Customisable components such as service fixtures, water faucets and drip cup.
Customisable base cabinet; can be mounted on bench, base leg or safety cabinet.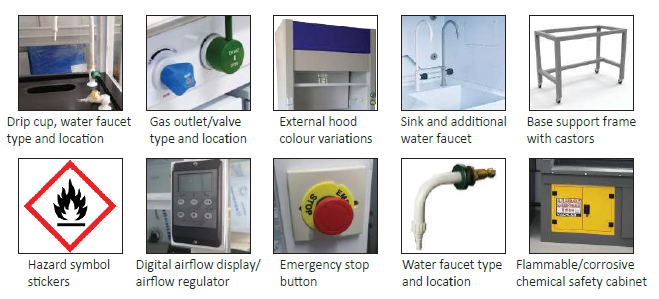 Product Details
MILD STEEL
PAFH-4-MS
PAFH-5-MS
PAFH-6-MS
POLYPROPYLENE
PAFH-4-PP
PAFH-5-PP
PAFH-6-PP
External Dimensions (mm)
1200(L) x 800(W) x 2350(H)
1500(L) x 800(W) x 2350(H)
1800(L) x 800(W) x 2350(H)
Internal Dimensions (mm)
950(L) x 700(W) x 1150(H)
1250(L) x 700(W) x 1150(H)
1550(L) x 700(W) x 1150(H)
Material
1.2mm(Thk) Electro-galvanized steel sheet with epoxy powder coating finish /
5-10mm(Thk) Polypropylene sheett
Worktop
25mm(Thk) Epoxy resin / 30mm(Thk) Phenolic resin c/w marine edge
Sash
5mm(Thk) Clear glass / Polycarbonate / Acrylic / Tempered glass
Full Sash Opening (mm)
700(H)
Standard Features
– 1 Unit of 10 Watts light
– 2 Units of 13 Amp electrical socket
– 1 Unit of light and fan dual switch
– 1 Unit of gas and water outlet & remote control
– 1 Unit of drip cup
Base Cabinet (Standard)
1.2mm(Thk) Electro-galvanized steel sheet with epoxy powder coating finish /
5-10mm(Thk) Polypropylene sheet
Power Consumption
10W (Lighting)
Volumetric Flow Rate
4ft: 800 – 1000 cfm
5ft: 1000 – 1200 cfm
6ft: 1200 – 1500 cfm
Face Velocity
0.5 m/s at > 300(H)